The Premier League is only one week old and it's already exhausting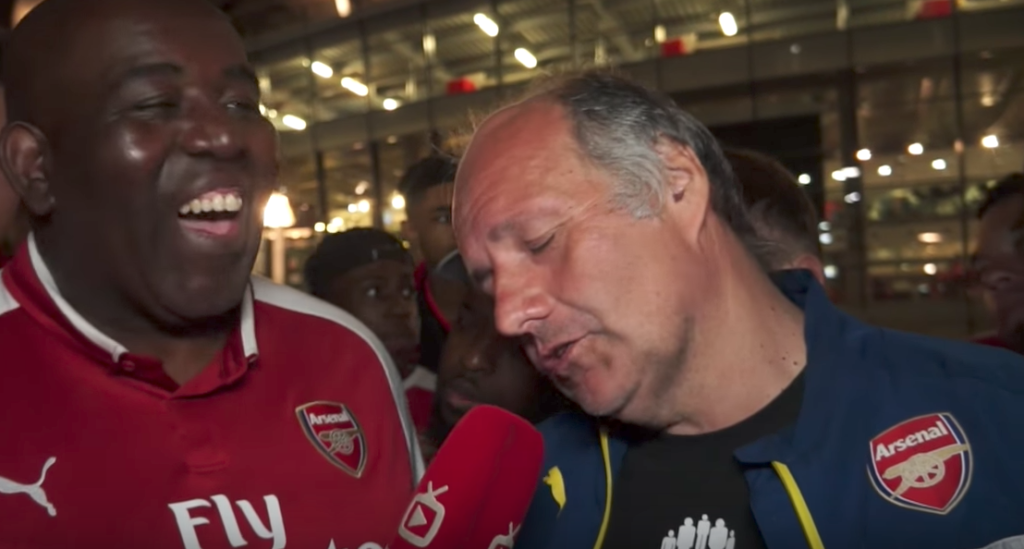 "I'm fucking knackered."
ArsenalFanTV regular Claude summed up his post-match feelings after Arsenal's 4-3 comeback win against Leicester City. In doing so, he summed up the feelings for most Premier League viewers.
A crazy opening weekend that saw last year's champions (Chelsea) chuck up an L, and last year's most "whatever" team (Manchester United) beat up West Ham. The first slate of games was a great advertisement for the Premier League's best "Is this good football?" fun, with goals and red cards* coming at the expediency of Amazon Prime deliveries. It was exhausting.
And after the final whistle, we still know nothing.
Unless your profession is to write about soccer. Then you saw everything you needed to label clubs disasters or contenders.
Man City will take some stopping in this season's title race https://t.co/QOBdyvCGEd

— John Cross (@johncrossmirror) August 12, 2017
Manchester United showed their title credentials. https://t.co/SMLRbUz3JF pic.twitter.com/FE10dNia1Z

— ESPN FC (@ESPNFC) August 13, 2017
Chelsea desperately need to strengthen before deadline day, says Paul Merson https://t.co/ErQZbdqYAo pic.twitter.com/lQlTUSJY3Q

— Sky Sports PL ? (@SkySportsPL) August 13, 2017
At Goodison Park, Rooney was surrounded by love and totally absorbed in the battle, writes @matthewsyed https://t.co/PEaeVMkU5v #EFC pic.twitter.com/RPSA0w3mLA

— Times Sport (@TimesSport) August 14, 2017
The hot takes came hot and takey. Arsenal went from potential champs to "Arsenal gonna Arsenal" in less than five minutes. These opinions quickly oscillated back and forth like the fan you need to keep on your desk since it's still August. 
The snap-opinion news cycle creates an echo chamber where no one can locate the original noise. Already teams have either surpassed or fallen below expectations. Expectations created by the very people claiming whether teams have reached them or not. Of course, after some games, front-runners begin to pull away and Stoke settle into mid-table. Like last year when Pep Guardiola and Manchester City ran away with the title after a few games…that's what happened, right?
Maybe Claude spoke deeper truths than he let on. His tired shoulders revealed what most fans feel deep down. Football is chaos. How do you predict the randomness created by 22 people in long socks?
You don't. You just embrace it.
This thought process can be difficult when pundits want to simulate the season and hand out awards right away.
To be relevant, experts are congratulating Manchester United on being 2017/18 Premier League champions. Man United supporters can now feel relief winning a trophy after a long, four-season drought (not including the Europa League title and League Cup and FA Cup and a couple of Community Shields).
I prefer to live in the chaos, where Huddersfield Town sit in a Champions League spot. In this chaos, the game stays in the present. Lukaku recording a brace doesn't add silverware to the Manchester United trophy case. It only answers the question "Is this player in this system against this team able to produce?" That isn't a bad thing. It lets the art of the game shine through. These tiny moments that create something beautiful fade when you attempt to photocopy them onto every fixture for the rest of the season. It diminishes millions of micro-decisions occurring on the field for 90 minutes in favor of a singular, black and white narrative.
Claude, Bully, and the rest of the ArsenalFanTV regulars outside the Emirates spoke like they understood this better than some of the pundits who are getting paid for their analysis. They talked about the frustration of poor set-piece defense and the ecstasy of a late, winning header. By attempting to fast-forward to May, you lose the entertaining unpredictability of the high and lows along the way.
---
Follow Julien on Twitter @JulienLlerena.
Contributors
Julien Llerena
TAGS
WELL, IT DEPENDS ON WHAT YOU MEAN BY "FREE."
Enter your best email for full access to the site.