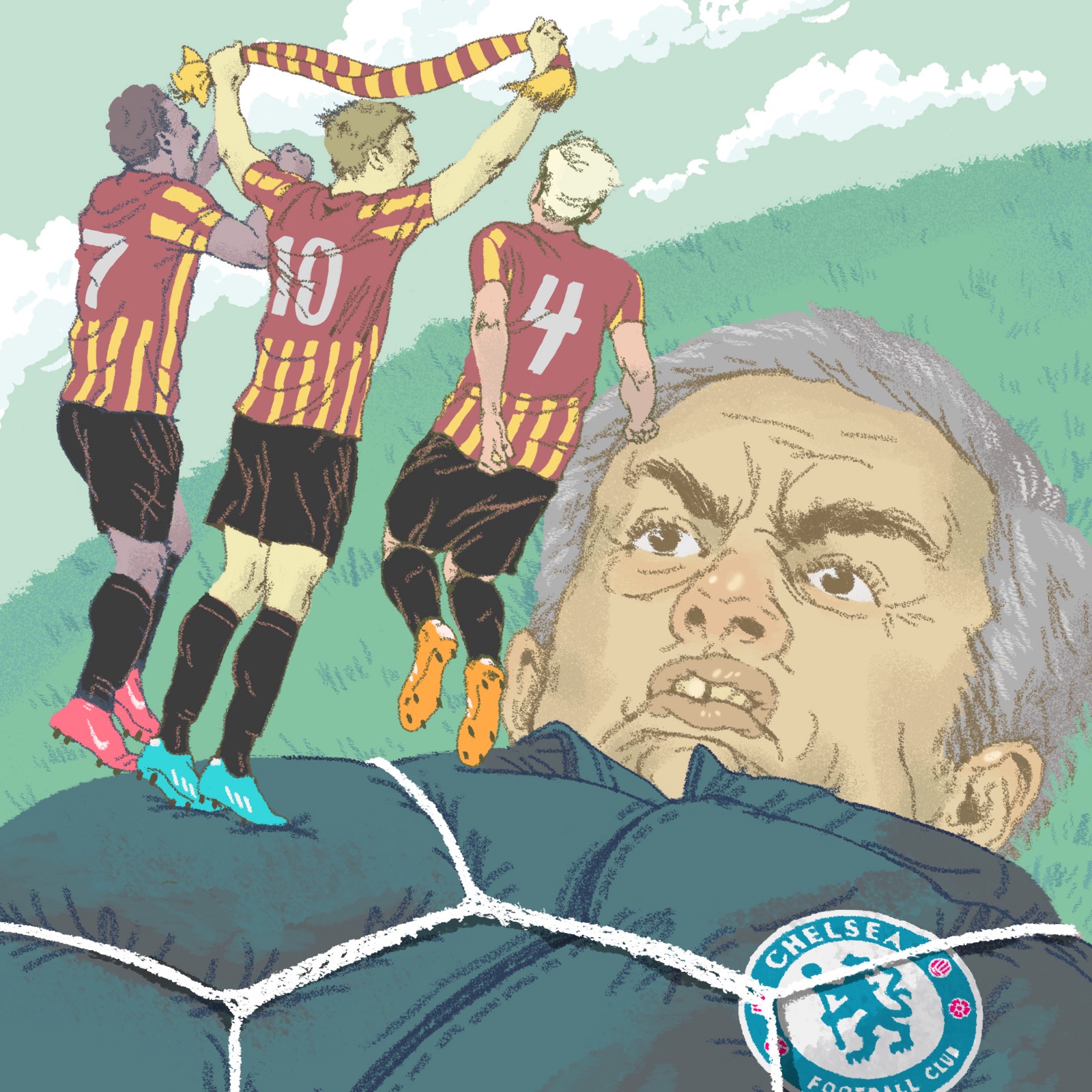 Bonus FA Cup Edition: On monumental upsets, bathroom upgrades, and the perils of vacationing in Abu Dhabi
By Kevin Alexander | Illustration by Eamonn Donnelly
Hahahahaha Chelsea Hahahaha
"If one were to try and encapsulate some of the successes and failures associated with one of the game's less glamorous clubs, then the undulating fortunes of Bradford City over the years would possibly be included in its pages." — Opening line of Bradford City's extensive and confusing club history
I love the FA Cup because it gives teams made up of local butchers, history teachers, and creepy guys who watch porn on the free computers at the public library a chance to compete against the likes of Wayne Rooney, Vincent Kompany, and Whoever Plays For Leicester.
And though it's rare to see actual amateur teams even get to a point where they might face a Premier League opponent — they'd have to make it through as many as nine rounds before the top teams even enter the tournament — what you do get is lower level professional teams from League One and Two playing the role of the Lilliputians bringing down the big club's Gulliver. Cue Bradford City vs. Chelsea.
Chelsea manager Jose Mourinho said before the match that it would be "a disgrace" if Chelsea lost to Bradford. But perhaps he didn't know that — aside from being from a city that boasts the largest park/city center water feature in the UK — the Bantams were well equipped to deal with Chelsea, even after conceding two goals. Their target striker Jon Stead was the man of the match, blasting the first goal past Cech and holding the ball up to assist on the third and fourth. Perhaps, after this once-in-a-lifetime performance, Bradford City will be motivated to update his bio with a picture and something other than "enter player biography here."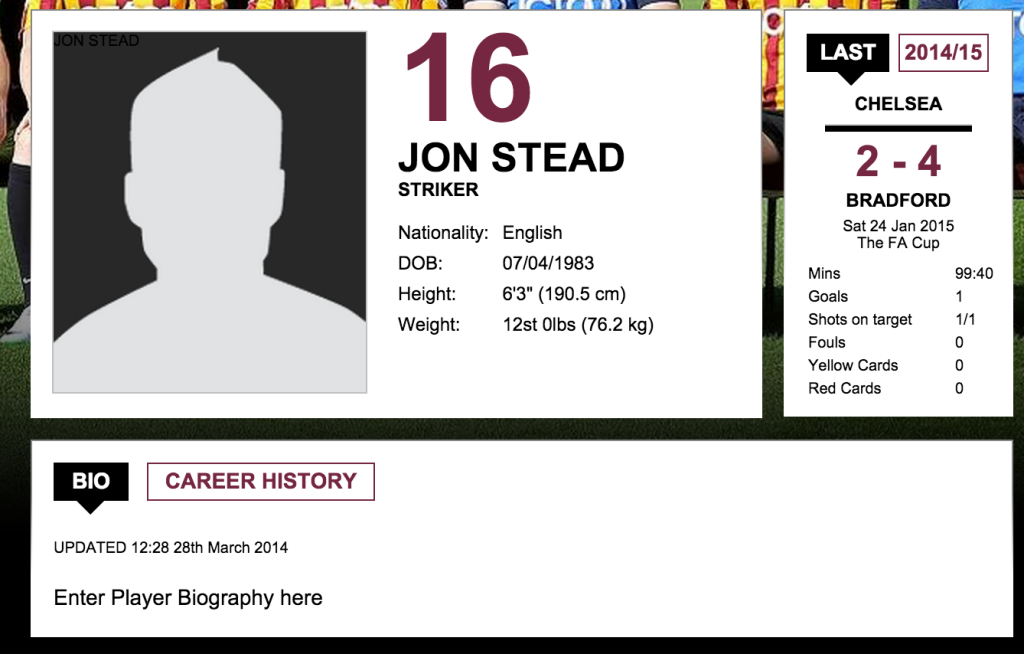 Chelsea meanwhile is officially out of the running for the quadruple, and hopefully will lose confidence, drop the next 15 games, and spend all of Roman Abramovich's money trying to re-sign Jimmy Floyd Hasselbaink.
Cambridge beats Manchester United 0–0, Might Literally Get A Pot To Piss In
Imagine you are a professional soccer club in England, just barely, seeing as you keep fluctuating between the top amateur league and the bottom of the professional ranks. And imagine that — against all odds — you've managed to draw with arguably the biggest soccer club in the world, and now you're headed for a replay at the most famous soccer stadium ever, giving you a chance to make nearly all your normal operating costs for the year in one match. What do you do with the windfall?
If you said "start putting some proper toilets in your stadium," you're probably Cambridge United.
How can any tournament be better than one in which a team actually plays for the chance to upgrade to individual urinals and possibly get a tea room, if there's enough left over? Cambridge sits 75 spots below Man U in the English football pyramid. For the last few years, they've been playing in Conference Premier, which is an amateur league. Their stadium has a capacity of 8,000, of which 4,300 are seated. Their manager warned players before the game that they'd have to purchase new jerseys from the club shop if they decided to trade them after the match. Their "total annual wage bill for a year" is just over £1million. Radamel Falcao makes that in three weeks.
And yet Cambridge was apparently able to afford a bus, because they parked it in front of their goal, and refused to move it, even after Falcao offered each of the centerbacks a 2007 Jaguar XJ and up to six cases of Colombiana soda if they let him score.
Manchester City and the Terrible, Horrible, No Good Very Bad Match
The only reason Middlesbrough's victory over the Sky Blues didn't get top billing is, well, you read the part about the urinals, right? Of all the major upsets, this was the one in which the underdog actually played above the level of the giant, taking it to their opponents despites the Citizens' pleas to "go easy because we just came back from Abu Dhabi and are moderately sunburned."
Chelsea had to get some satisfaction out of the fact that their on-loan striker Patrick Bamford opened the scoring for the Smoggies, which is a real nickname for the team. I actually feel bad for Lee Tomlin, because if he hadn't hit the post with his beautiful outside of the foot strike after the best turn I may have ever seen, his goal would be on all the highlight shows and children all over northeast England would be running around in Lee Tomlin jerseys mimicking said turn while stuffing their faces with McVities Grab and Go Milk Chocolate Digestives.
Other Items of Note
Bojan Krkic scored on an incredible volley from outside the box for Stoke during their 4–1 victory over Rochdale, though true Stoke fans were incensed because it didn't come from a header off a free kick or during a scrum in the box in which at least three people were punched in the face.
Darren Bent scored for Derby County in their win over those old cigarettes my grandma used to smoke in the 50s, which, I believe, is Bent's 38 millionth goal while playing for every single professional team ever.
Southampton lost to Crystal Palace because Alan Pardew keeps using dark magic, even though that's frowned upon in most of the Harry Potter books.

Check back here every Tuesday for more EPL breakdowns and a look at the life works of Darren Bent. Or just follow Kevin on Twitter @KAlexander03 and he'll send you a coupon for your own box of milk chocolate digestives. Eamonn Donnelly is on Twitter
Contributors
Howler
TAGS
WELL, IT DEPENDS ON WHAT YOU MEAN BY "FREE."
Enter your best email for full access to the site.