Home
Dirty Tackle
Cristiano Ronaldo's apology for being a person with feelings, too
Cristiano Ronaldo's apology for being a person with feelings, too
February 14, 2015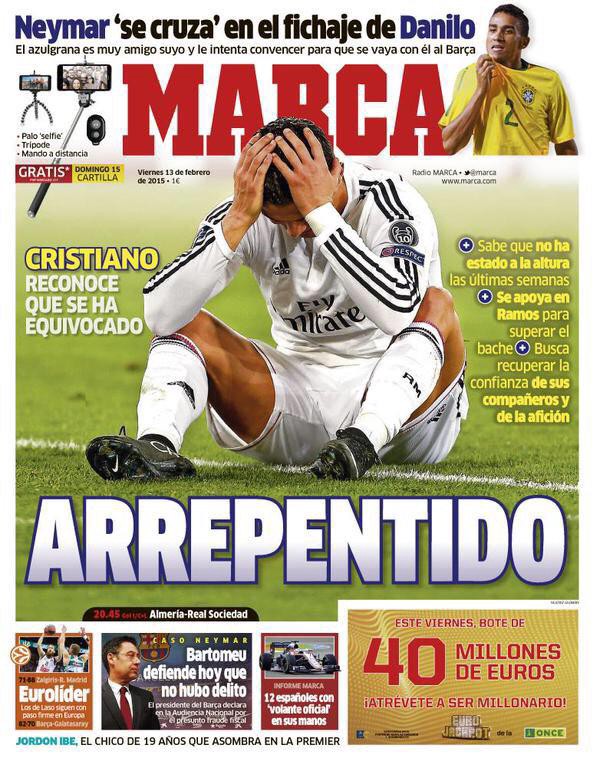 Cristiano Ronaldo recently drew the ire of Real Madrid fans by brazenly celebrating his 30th birthday hours after the club lost 4–0 to Atletico Madrid. But Cristiano is sorry about this, as well as his poor run of form. The following is his apology to all of those he has offended.
Dear everyone who cares,
I am very sorry for going out and celebrating my 30th birthday after our loss to Atletico. I know this was irrationally upsetting to many of you. As I understand it, this was seen as an unprofessional act of disrespect and flippancy. In truth, I just wanted to celebrate my 30th birthday like every other human being on this planet who has ever reached a milestone birthday. That reasoning should have been obvious and justification enough, but I also feel the need to point out that this has been a very difficult period for me personally.
As you surely knew before many of my closest friends even did, I recently broke up with my long-term girlfriend Irina Shayk. And to make matters worse, she has already been romantically linked to The Rock, who I used to think was awesome. Then there's the fact that I haven't been playing well of late and, additionally, I still haven't gotten over my poor performance at the last World Cup. To top it all off, my son was more excited about meeting Lionel Messi at the Ballon d'Or gala than me actually winning the award. That hurt.
What upsets me the most though is that people somehow interpret my attendance at a soiree arranged before the Atletico match as evidence that I don't care about the result. Have you never done something to try and take your mind off your own sadness when it feels like everything in your life isn't going as perfectly as it usually does? If you have followed my career even a little bit, you know that I work incredibly hard. And if you haven't followed my career at all, you can see this just by looking at my abs. Seriously, look at my abs. Please.
I don't drink, I don't smoke and I don't hang out with Jack Wilshere. Football is my life. But everyone needs to let off some steam every now and then and I thought my 30th birthday was a reasonable occasion to do that. Sadly, this was used as yet another opportunity to criticize me. Meanwhile, Lionel Messi could probably have a birthday party on the pitch as Barca lose 17–0 and everyone would say how adorable he looks in his party hat.
So, yeah, things have been tough in Ronaldo Land lately (which happens to be the name of an amusement park I'm trying to get funded). This is what always happens to me, though. Because I'm rich and handsome and talented and better than you in every way, I don't get any sympathy — only unfair criticism and scorn. Obviously you are all super, super jealous of me. And that makes you pathetic losers. Not me. Go have a party of your own instead of worrying about mine. Which you weren't even invited to, anyway.
OK, I took that too far. I realized that immediately. Sometimes I project an image of overconfidence and insult others when I'm feeling particularly bad about myself. I'm sorry for that too. I'm really sorry for everything, basically. I'm just a guy like any other, who works hard and wants to do the best he can and have a nice birthday and not think about The Rock kissing his ex girlfriend. That's all.
So, again, I'm sorry. And if you see The Rock, please ask him how he can sleep at night knowing that he has ruined my life forever. Thank you. And happy Valentine's Day. I guess.
Regretfully yours,
Cristiano
Contributors
Howler
TAGS
WELL, IT DEPENDS ON WHAT YOU MEAN BY "FREE."
Enter your best email for full access to the site.