Home
Dirty Tackle
David Luiz won't celebrate if he scores against Chelsea, but he does call Mourinho and Blanc ugly
David Luiz won't celebrate if he scores against Chelsea, but he does call Mourinho and Blanc ugly
February 17, 2015
https://www.gettyimages.com/
David Luiz is a man who likes to spread and express joy, but, sadly, he has chosen a profession where one man's joy is too often interpreted as a personal insult to others. This is a result of the #RESPECT syndrome and football is currently being choked by its bitter self-importance.
Players are now expected to react as if they just watched the euthanization of their childhood pet when they score against their former club in order to satisfy the delicate sensibilities of far too many supporters and members of the press. So when David Luiz was asked what he would do if he scores against his old club when PSG face Chelsea in the Champions League round of 16, there was only one answer he was allowed to give.
From the Express:
"If I score against Chelsea I won't celebrate out of respect, but of course I would be happy."
It's undoubtedly shameful that a culture prevents someone from showing their happiness, but some things are allowed. Like social media banter and calling Jose Mourinho names.
France Football put Mourinho on its cover ahead of the tie, dubbing him "The Shit Stirrer."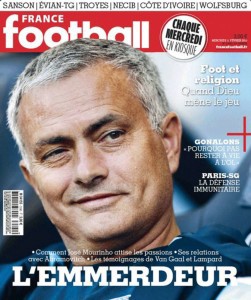 David Luiz took a more equal opportunity approach to his put-downs, though. From Reuters:
Asked to compare Blanc and Mourinho, Luiz said with a smile: "They are both ugly".
Contributors
Howler
TAGS
WELL, IT DEPENDS ON WHAT YOU MEAN BY "FREE."
Enter your best email for full access to the site.