Home
Dirty Tackle
The BBC brings transfer deadline day to new levels of absurdity with "weather" report and "computer game expert"
The BBC brings transfer deadline day to new levels of absurdity with "weather" report and "computer game expert"
February 2, 2015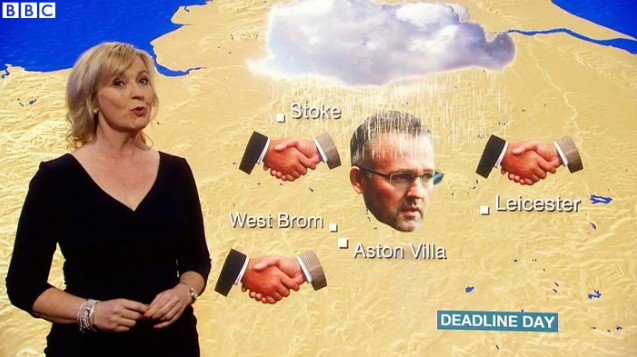 Just when you think transfer deadline day can't get anymore ridiculous than it already is, someone thinks of something to take it to another level of nonsense that renders all attempts to mock it useless. And this time, that has been achieved by the most unexpected of sources: The BBC.
To truly make deadline day feel like someone spiked your morning coffee with LSD, they produced a special weather report featuring handshakes rainclouds and giant manager heads spotting a map of England. It is the stuff of nightmares.
http://emp.bbc.co.uk/emp/embed/smpEmbed.html?playlist=http%3A%2F%2Fplaylists.bbc.co.uk%2Fsport%2F0%2Ffootball%2F31086440A%2Fplaylist.sxml&title=Transfer%20deadline%20day%3A%20Carol%20Kirkwood's%20weather%20forecast%20&product=sport
But once you survive that and make it into the office to fire up their deadline day liveblog, you're greeted by another feature that will make you question your sanity: the inclusion of insights from a man with the job title "Football Manager computer game expert." This is a real extract from their actual live blog…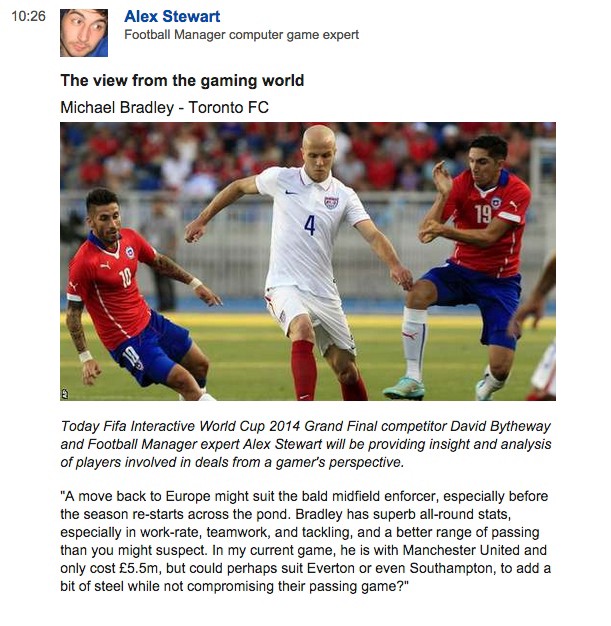 "In my current game he is with Manchester United and only cost £5.5m." That's an actual quote from the BBC's actual live blog about the actual transfer deadline day. "In my current game he is with Manchester United and only cost £5.5m."
Stay tuned for more valuable updates like "Last night I had a dream where the purple bunnies make oatmeal squirt out of my grandfather's ear" and "When I was a kid I wrote a story about dinosaurs that could play jazz music. The bass player was a raptor called Tom."
I'm starting to think that deadline day is an elaborate ploy from the Illuminati to slowly turn our brains into mush.
Contributors
Howler
TAGS
WELL, IT DEPENDS ON WHAT YOU MEAN BY "FREE."
Enter your best email for full access to the site.