Home
Dirty Tackle
This might be Jose Mourinho's favorite press conference question ever
This might be Jose Mourinho's favorite press conference question ever
April 24, 2015
https://www.youtube.com/embed/1J9PgEg_w6U
Jose Mourinho has a complicated relationship with the press. In many ways, he feeds off them and their tidal mix of antagonism and reverence for him. Even when he's making a point of not speaking to them, he demonstrates how important the relationship is to him. But his Friday press conference ahead of facing second-place Arsenal might have produced his favorite question yet.
When asked how hard Arsene Wenger has pushed him this season, Mourinho could only repeat "How hard?" before laughing along with everyone else in the room and doing whatever you call this…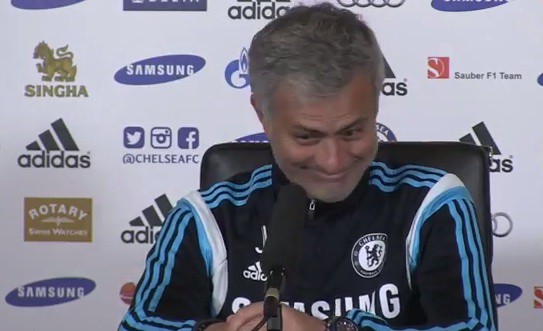 The question carried the double meaning of referencing Arsenal's place as Chelsea's closest rival this season and the moment Wenger literally shoved Mourinho on the touchline during their first encounter this season. In other words, it was perfect.
Mourinho gave the journalist a thumbs up and told him it was a "top question" and that he "deserves a proper answer." But, alas, he said he could not answer because "I am always honest in my answers."
That wasn't the only chuckle session of the day, though. When Chelsea's press officer was late arriving, Mourinho concocted a prank where he would pretend to be finished once he walked in the door (payoff at 1:50).
https://www.youtube.com/embed/CLwuoMz-lWo
The day is coming when broadcasters wise up and start paying bigger money for Mourinho's press conferences than Premier League matches themselves.
Contributors
Howler
TAGS
WELL, IT DEPENDS ON WHAT YOU MEAN BY "FREE."
Enter your best email for full access to the site.