How young athletes can help the US take the next step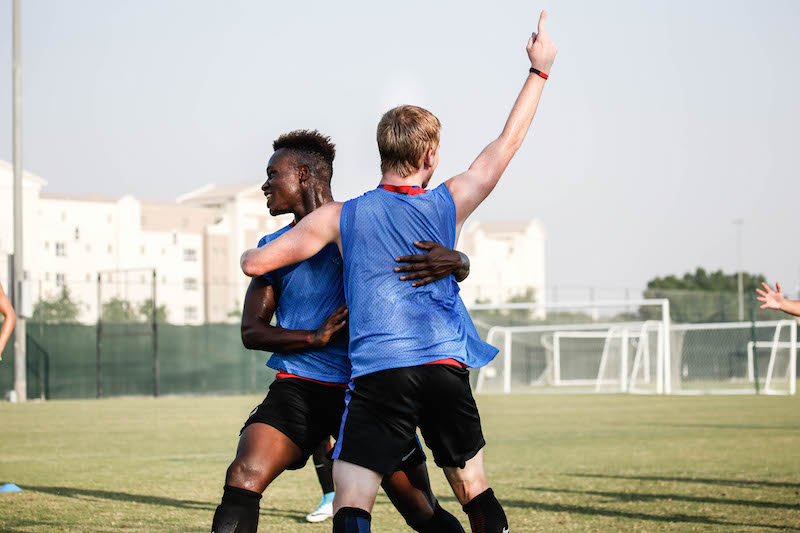 To you, the American soccer player of the future,
The US men's national team lost to Trinidad & Tobago in a decisive match that led to our ultimate failure to qualify for the 2018 World Cup. Since then, there seems to be a lot of finger-pointing at the federation, the pay-to-play youth system and the coaches/players of the US team (to name a few). While we can and should debate these topics, the fact of the matter is this: We don't have enough young players who eat, sleep, and breathe the sport of soccer.
Generations of players forged a path up the mountain of international relevance for you to follow but they all failed to reach the summit. Throughout my youth, collegiate, and pro soccer career I've become interested in understanding and pinpointing the reason why the United States can't seem to break through on the international stage. If we're serious about winning on the big stage and elevating our soccer stature as a nation, things need to be addressed head-on. The message to you is clear: For the US to be consistently recognized as an elite soccer nation you need to be smarter, savvier, more passionate footballers than those who've come before you.
On the surface, we seem to have all the resources we need—and I'm not just talking about Capri Suns and orange slices at halftime. Yet when we fail to live up to our "Don't Tread On Me" expectations, we regurgitate excuses and circumvent responsibility as a national soccer community.
Blaming the youth soccer and developmental academy systems for the lack of developing talent is an easy argument to make, but it's overused and lazy. Most American players—from the ages of four to 18—go to team training one to five times each week, for approximately one hour per day. The issue is not the field time. The problem is individuals thinking that is enough to develop into world class players. The World Cup requires world-class players and we won't compete to win it if our youngest players believe that being on the ball for five hours a week is sufficient. There was a recent article that came out titled, "EXHAUSTING: Martin Odegaard's training schedule when was 13-years-old is utterly insane." No, it's not. Odegaard's 'training schedule' is indeed the sober norm for world class footballers. I had the pleasure of playing with Odegaard in 2014 right before he signed with Real Madrid and I witnessed him getting picked up in his Mom's station wagon. Externally, he isn't different from any teen here in the United States, but his internal desire to develop fuels him to not think twice about training 20+ hours per week.
You mustn't look solely to your coaches for development. It's irresponsible and silly to expect coaches (at any level) to manufacture world-class player. While coaches at all levels should be held accountable for their competence, or lack thereof, they do not decide your individual talent/success trajectory. As a player, you are solely responsible for your development and the sooner you own that, the quicker you will improve your game.
This past year I had the pleasure of coaching at the youth, high school, and collegiate levels. It's given me a wonderful opportunity to look at the game from a new vantage point on player development.
Time and time again, I ask my players, "Who is outside working on their game for hours on their own each day?" Zero hands go up. Occasionally, I do get a hand that shoots up and 99.9% of the time, it's from one of the best technical players on the team.
Stop blaming coaches for lack of playing time, opportunity, and/or development and get US Soccer out from behind the veil of entitlement. This will only get better if you can increase your individual commitment level and discipline to improve your game. This country needs players who refuse to leave the training ground after practice because they can't go to sleep without perfecting parts of their game. We desperately need more of you who wake up hours before school starts just  to get more touches on the ball. If you think I'm crazy by suggesting these things, then don't complain about the US not competing for a World Cup, and certainly don't expect to be a viable solution to any of your coach's problems.
Our collective improvement as a soccer country has hit a plateau after years of rapid growth and we need you to speed it up again. While it's easy to blast the youth structure, college system, or the lack of "readiness" of our academy products, the burden of that obscured stagnation rests on you. Regrettably, we haven't been able to produce persistent generations of passionate, savvy footballers who can think, act, and play at the highest levels.
It's all too comfortable for us to say, "Well, Spain just has better individual players." Now, as true as that may be, we need players like you to personally take it upon yourselves and put in the countless hours of individual work that will get you to that level. If we have any shot at winning a men's World Cup someday, it's up to you to furiously evolve your relationship with the ball and the game.
It's become a perpetual belief in our country that athleticism trumps all. We tend to reward our biggest, strongest, fastest athletes in the United States with praise and admiration. However, our shortage of soccer intelligence and absence of cleverness has crippled us from getting to the next level. The global athleticism gap is narrowing while the soccer intelligence gap is widening. We can't continue to assume that our athleticism will keep us competitive at the highest level. In reality, this outlook only breeds complacency and immunity from taking responsibility for developing top-class players in this country. The foundational relationship with the ball itself gets lost at an early age, and it's incorrectly assumed that it can simply be picked up at a later date—or worse, camouflaged by our athletic prowess. This is a tragic way to think as an American footballer.
Another popular argument you may hold is, "Yes, but we have many other major sports and I like to play them, too." Great. Multi-sport athletes are the reason this country develops some of the finest competitors in the world. However, this alone will not win us a World Cup. I'm not proposing you immediately drop all other sports and only concentrate on soccer—I was a multi-sport athlete and my athleticism and physical capabilities, although limited to begin with, improved greatly from that experience. That being said, if we are sincere about winning a World Cup someday, we won't be able to do so with wide receivers and center fielders. There can't be such a disconnect between what you say you want and what you are willing to sacrifice to achieve it.
A good portion of athletes in America will play a few different sports until high school and then stick with the one they happen to be best at. Meanwhile, kids of the same age around the world are signing their first professional contracts and immersing themselves in high-level technical expertise and training. Sure, our athletes can beat most international competitors in track and field events, but on the soccer field, we can't seem to combat the guile of our international competitors.
As a society, we can't be afraid of nurturing masterfully obsessed, ardent soccer players and you can't be afraid to become one. I'm sure most of you have experienced coaches or parents preaching cliches like "it's not about winning" and "just have fun and see what happens." These are both well-intentioned, gentle suggestions but should be beyond frustrating if you're a passionate player who wants to push the envelope. The term 'obsession' has a dirty connotation in the US vernacular, but I'm urging you to go down the rabbit hole and get obsessed with this game. Dive wholeheartedly into your passion for soccer and keep feeding it until you raise the World Cup for our country. It's going to take boldness, creative genius, discipline, shrewdness, and passion for us to bring home the cup but you can't be fearful of testing your individual limits.
These are some of my deep-rooted, actionable pieces of advice for you:
Simply calling yourself a 'fan' of soccer isn't enough. A love for this game is a prerequisite to success, but won't make you any better than the young Brazilian boy/girl who loves it just as much. Also, playing FIFA or Football Manager all day long after school will not make you better at the game and will only delay your tangible growth. A lot of US youth players have developed a closer relationship with their console controller than with an actual ball. I can tell 12-year-olds to show me a stepover and they can push three Xbox buttons and do it easily, yet can't fathom doing it in their backyard while running at pace. This country needs maestros in reality, not on Xbox.


 Get out to the fields before school starts and practice your game. Become enchanted by the game and all of its juicy idiosyncrasies. Be the player who dreads the coach blowing their whistle to end a training session. This merely commences team activities. Now take the opportunity to concentrate on individual skill and development. Tell your parents to pick you up an hour later (I'm sure most of them will be happy to oblige) because you want to get extra work. Blood, sweat, and tears are necessary, but putting in the time is mandatory.

Become an avid student of the game. Worshipping your favorite player isn't as useful as knowing why they are your favorite and what makes them so special. For instance, admiring someone like Harry Kane for scoring loads of goals is fantastic; learning

why

he scores is better. It's natural to watch highlight videos on YouTube and swoon over the grand touches, sublime finishes, and big-time saves. It's more arduous to break down touch-by-touch why that exact action was so sensational. Instead of just watching an eight-second clip of a goal, watch the 30-60 second build-up that led to it. Don't rob yourself of the inherent beauty of this game. Constantly question why the top players are always moving into different positions and what transpired to make that highlighted goal happen. As your obsession grows, your admiration for the best pros in the world will, too. You will recognize why Messi is so incredible and why he and Ronaldo are always in the Ballon d'Or conversation by default. Everything they do is in the details.

Learn each formation and its strengths and weaknesses. Know why some teams play a classic 4-4-2 while others opt for a 4-3-3? How do positional roles differ in each? For instance, can you distinguish what a holding midfielder's role is in a diamond vs. flat midfield?

Learn about decision-making and study the gamesmanship of elite teams in certain situations. Notice the tiny details:
-Are players staying in the corner together after a goal to celebrate a little longer so they can catch their breaths and reset/refocus?
-Are players taking more/less risk in specific areas of the field? (Why don't you see Messi or Ronaldo trying to dribble out of their own 18-yard box?)
-Are players making the correct decision with their passes? If not, where was the better option and why was it the better choice?
-Do players seem to recognize and anticipate where the ball will be three, four, five steps ahead? What gives them that indication?
-What technique are they using to hit the ball? (Did they use the outside of the foot to bend the ball into the path of their teammate's run or did they strike that long ball with their laces?)
-Are players spending too much time on the ball? Why did they give it to their teammate three yards away instead of just holding onto it?
-Did the striker finish with his/her laces/outside or inside of the boot? Why? Ask yourself which situations require a specific type of strike.
-What seems to be the "game plan" of the two teams you are watching? What is each position's role within the system, both offensively and defensively?
-Why is Giorgio Chiellini always organizing his team even when Juventus has possession of the ball?
 -Why is David Villa often standing offside until he suddenly "turns on"? How would you defend a player who does that?
-What is the body language of the elite players? Are they hunched over, looking defeated or are their shoulders back, eyes focused, and in the moment? What is your body language saying at training, in games, when no one is looking?
These are all questions you need to ask and seek answers to. The next step is to endlessly practice, perfecting techniques and envisioning yourself in game-like situations. There isn't a secret-sauce recipe that only a select few players and/or nations possess. We have the ingredients right here in the United States, but we need self-discipline and fervor to perfect these minor details.
Soccer has to evoke an emotion in you that energizes you. Have more than one mentor. Have more than one idol. Mirror your game from many sources and you will develop rapidly. Take the attributes you admire from many players, build them into your arsenal and create your own style. Don't let this be the best that it can get for US soccer.
America is waiting for a player like you.
---
Follow Jeb on Twitter @JebBrovsky.