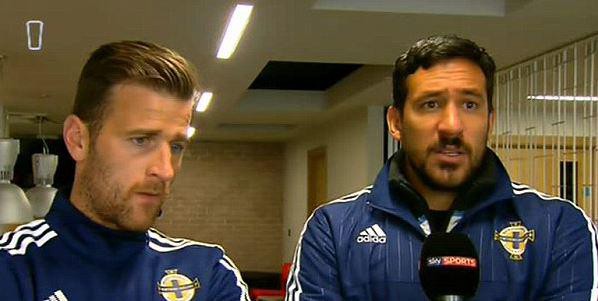 Continually plumbing new depths of classlessness under Mike Ashley, Newcastle informed long-time members of the team Ryan Taylor and Jonas Gutierrez, who returned from testicular cancer to score the goal that ensured that they would not be relegated, of their release with one call on a shared phone.
Though both players had been told that they would be released months in advance, they were informed of the final decision by economically conscious caretaker manager John Carver while they were both in Northern Ireland working towards their coaching badges. From the Guardian:
"John Carver rang me and told me the club weren't going to offer me a new deal," Taylor told Sky Sports News. "I then had a chat with him, he's a good friend of mine. I've spent a lot of time with John in and out of the club. So I had a chat with him and then he asked me to pass the phone to Jonas, which was unbelievable. I can't really blame John because he's under instructions on what to do."
The following is a transcript of that call…
Taylor: Hello?
Carver: Ryan! It's John. How are you?
Taylor: Fine. What can I do for you, John?
Carver: I've got some good news! You might be off to Real Madrid!
Taylor: You're joking. They inquired about me?!
Carver: Well, no, but you're free to go there if they do because Newcastle won't be offering you a new deal.
Taylor: How is that good news?
Carver: I thought if I put a positive spin on it you might take it better.
Taylor: That was so much worse than if you had just told me straight.
Carver: That's valuable feedback. I'll remember that. Listen, Ryan, is anyone else from the squad with you right now?
Taylor: Yeah, Jonas is actually.
Carver: Ah, perfect. Put him on, would you?
Gutierrez: Hello?
Carver: Jonas! It's John Carver. I've got some news. Newcastle won't be offering you a new deal and you probably won't get one from Real Madrid, either.
Gutierrez: What?
Carver: See! I didn't want to say that bit about Real Madrid that way, but Ryan said to say it straight. That's the last time I listen to him. Well, literally.
Gutierrez: So I'm definitely not getting a new deal from Newcastle?
Carver: No. Hey, you wouldn't happen to know Tim Krul's Snapchat handle, would you?
Gutierrez: No. I don't.
Carver: Sammy Ameobi's Skype address?
Gutierrez: I don't know.
Carver: Ah, forget it. I'll ring Cheick Tiote. Maybe they'll all be together. Anyway — good luck with everything. And if you see any funny email forwards, feel free to send them my way. My inbox is always open. I hope you know that. Now if you'll excuse me, Mike Ashley said he'd text me once I finish informing all the players we're getting rid of. I think he's going to make me permanent manager. He told me to pack up all my things, so I guess I'm getting a bigger office, too. Tell Ryan I said goodbye.
Gutierrez: Bye, John…you poor, poor fool.