https://www.youtube.com/embed/9Eye5SA4mwM
For years now, the supposed rivalry between Cristiano Ronaldo and Lionel Messi has seemed like nothing more than media and fan speculation. A product of excessive scrutiny on the two best players in the world, who don't have a particularly warm relationship and happen to play for rival clubs. But this year it became personal.
Cristiano Ronaldo first made his son's interest in Messi known back in January at the Ballon d'Or gala. After beating Messi to his second consecutive Ballon d'Or, and third overall, a jovial Cristiano told his son to say hello to Messi. As the two shook hands, Cristiano said to Messi, "He watched a video on the internet about us and he talks about you."
It was a cute moment, but in recent weeks Cristiano Jr. has proven to have more than just a passing interest in Messi.
Take this picture that Cristiano's mother, Dolores Aveiro, posted to her Instagram account, for example…
https://instagram.com/p/8aidJ-ydtt/
It seems like any other lovely picture of a grandmother with her grandson, but what's that on the screen of Cristiano Jr.'s tablet? Enhance and rotate!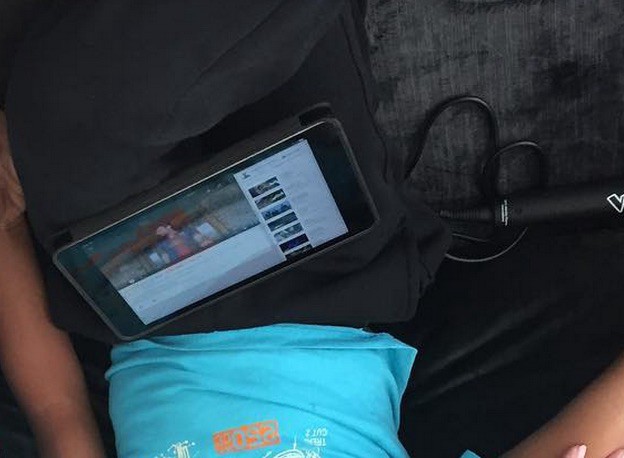 That's a Messi video he's watching. OK, fine, so he's still watching Messi videos. Who doesn't watch Messi videos? That's just proper internet usage. It's not like the kid is going around talking about how Messi has more Ballon d'Or awards than his father at an event to honor his father for winning a record fourth Golden Shoe award (one more than Messi). Oh wait…
https://instagram.com/p/8z8RlBwvVp/
Right in front of the press, with their rolling cameras, Cristiano Jr. started talking about Ballon d'Or totals as if he was trying to make his grandmother as uncomfortable as possible.
Cristiano Jr: Messi has five…four…
Dolores: I don't care about Messi.
Cristiano Jr: He has four?
Dolores: Your father has three [Ballons d'Or]. And he has four [Golden Shoes].
Cristiano Jr: Ok.
Dolores: Ok.
That was it! It's like he just wanted to get that conversation on camera. And this was on top of him giving his father the finger during his acceptance speech.
Clearly Cristiano Jr. has chosen sides and he's on Messi's. If Cristiano didn't hate Messi before, he definitely does now.