Spanish federation takes a stand against Bale's outdated bun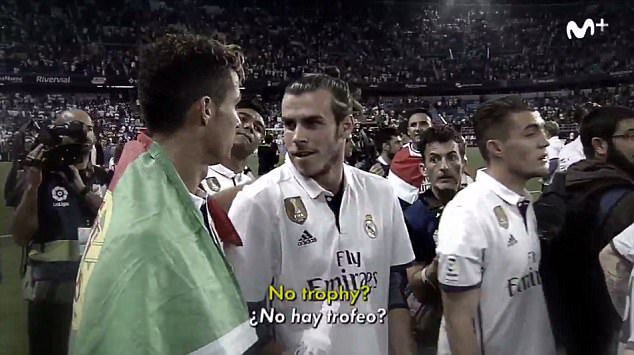 The Spanish football federation (RFEF) is refusing to hand over the Liga trophy to Real Madrid until Gareth Bale adopts a more "professional" hairstyle. Los Blancos became champions of Spain for the first time in five years with a 2–0 win over Malaga on Sunday, but they were not given the trophy. Bale and Luka Modric were both seen asking why the silverware wasn't present after the match, while Cristiano Ronaldo added that the decision was "a fucking joke."
Bale: "¿No hay trofeo?" -Cristiano: "¡Es una jodida broma!" https://t.co/JZvWKL1Sx2
"Being a champion means more than just one's play on the pitch," said RFEF president Angel Maria Villar. "It also requires a certain level of personal quality. And certain members of Real Madrid's squad do not display this quality. Of course, I am referring to Gareth Bale and his man bun. This trend has come and gone and yet he still has that droopy bird's nest atop his head. It's a blight on Spanish football and we cannot present the club with this trophy until something is done about it. We have informed Real Madrid of this matter and they assure us that it will be dealt with."
Bale has struggled with injuries this season, scoring seven goals in just 19 appearances for Real Madrid—his lowest totals since he joined the club in 2013. Many experts have speculated that his lingering man bun is to blame.
"Some might say that this is a harsh position for the federation to take, but we have been very lenient in this area," Villar added. "That nonsense Neymar used to have on his head, Messi's blond atrocity, everything Ronaldo has done to himself. We have to put our foot down somewhere. And we're putting it down on Bale's antiquated hipster hair."
Real Madrid have been given until the start of the next season to get Bale to change his hairstyle or the trophy will be melted down into a paperweight that will be used to hold down all the complaints filed by Gerard Pique.
Villar concluded: "Look, we know that Bale might be balding under that monstrosity, but that's totally fine. Some people are bald. No one cares, Gareth. A bald patch is so much better than a man bun. It's 2017 and everyone agrees on this."